---
On Monday, June 19th, a yard sale will be held to help the Alzheimer's Association, out of Rochester, NY. The sale will be held at the Ontario Center on County Complex Drive in Canandaigua and will go from 9:30 AM to 2:00 PM.
The yard sale will feature local vendors and craftsmen. Food trucks will be there, with all proceeds going towards the Alzheimer's Association.
Please contact Courtney at cbauer@centershealthcare.org if you are interested in being a seller. 10′ x 10′ spaces cost $25, which will go to the Alzheimer's Association.
The Newark Rotary Club is hosting a Chicken Barbecue Fundraiser on Sunday, June 25th. The barbecue will be held in the parking lot of 165 East Union Street in Newark.
Admission is $10.00 with proceeds going toward the the Newark Rotary Club projects. The barbecue will go from 11:00 AM to 3:00 PM. Curb service is provided. 

Free Summer Food Program for Children
This summer, Wayne ARC is sponsoring the Summer Meal Program, which provides free lunches for children. Meals will be given to all children without charge regardless of race, national orientation, sex, age, or disability. Meals will be provided at the:
First Baptist Church (133 East Miller Street, Newark)
Newark Library (121 High Street, Newark)
Palmyra Library (402 East Main Street, Palmyra)
Newark Windsong Terrace (The Pavillion, Vienna Street, Newark)
Newark Driving Park Circle (Newark)
For further information, call Wayne ARC at (315) – 331 – 7741 ext. 237 and ask for Chris Ball, Food Service Manager.
On July 6th, the Legal Assistance of Western New York, Inc.® will be offering legal aid to veterans with civil legal problems. Veterans with child support issues will be able to meet with volunteer attorneys for thirty minutes.
Veterans will also receive a light breakfast and information regarding other free services available to veterans and their family. The clinics will be held from 9:00 AM to 12:00 PM in the Canandaigua VA Medical Center.
Pre-registration is required. To register or for more information, contact Natalee Carroll at 315-781-1465 or ncarroll@lawny.com.

On June 21st, 2017, the 38th Annual American Cancer Society Golf Tournament will be hosted at the Seneca Falls Country Club. Teams will consist of 4 players, at $80 per person. Each team will be provided with 18 holes to play, a golf cart, lunch, dinner, and a tournament gift.
The winning team will also get a trophy in memory of Bob Rosenkrans, who passed away in 2015, at age 68, after an eight month battle with brain cancer. Proceeds from the event will be donated to the American Cancer Society.
Registration begins at 9:00 AM, with tee-off at 10:30 AM. To register or for more information, email marketing@mygenbank.com or call 315-568-1187.
Join Miss Tara and Miss Martha for some reading and play this June. The readings will happen at 10:00 AM on June 23rd, and 30th, weather permitting. The readings will be one hour long and will be located at Kid's Territory on West Bayard Street in Seneca Falls.
The event is free. For more information call Seneca Falls Library at 315-568-8265 or visit senecafallslibrary.org
On July 15th and 16th, the 60th annual Pultneyville Homecoming Festival will occur, coordinated by the Williamson-Pultneyville Historical Society. The event first took place in 1957, when it marked the 150th anniversary of the first post office in Pultneyville.
The festival will include numerous events, held in various locations around Pultneyville. The festival schedule can be found here.
A raffle will occur to help with the costs of annual homecoming festival. There are five prizes in total, ranging in value from $250 to $2,500. The winners will be announced in Centennial Park at 2:00 PM on Sunday, July 16th. Raffle tickets can be purchased here.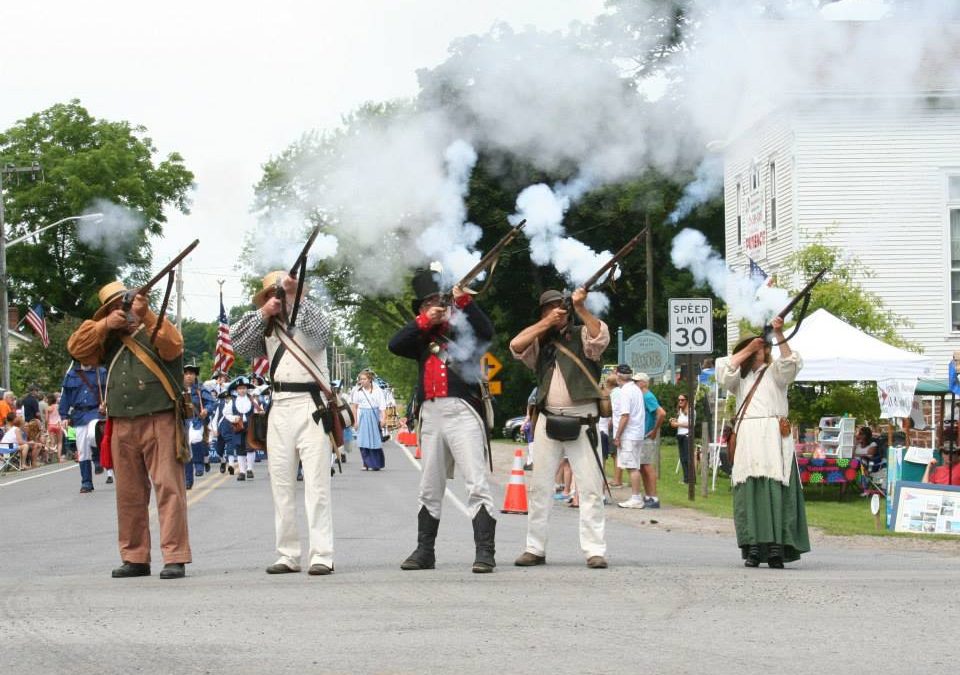 ---